Charles Deibel
(1867-1951)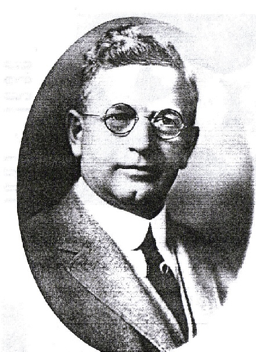 Charlie Deibel
Circa 1900

Charles "Charlie" Deibel was born in Hogue's Alley off Mahoning Ave., September 1, 1867, and as a young boy lived over the family's meat market where the State Theater once stood in downtown Youngstown. He quit school after the 4th grade and peddled meat with a horse and wagon through the city using a bugle to announce his presence. (Customers purchased meat daily as refrigeration was unknown.) After his father's death, Charlie bought the property at 255 W. Federal Street and built what was described as "one of the finest all around meat and fooderies between New York and Chicago." With his brother, Christopher, as a partner he started a chain-store operation with retail locations in Struthers, Warren, Niles and Girard, plus stores in Sharon, PA.

On September 9, 1890 at the age of 23, Charles Deibel married Agnes Siebold of Youngstown. They had two sons named Cyril Paul and C. Victor. Charlie began to purchased many pieces of commercial real estate – so many that it was often said that Charles Deibel had "owned at one time or another every corner in downtown Youngstown." He also owned race horses but was heard to say, "Keep away from them or you'll be wearing straw hats in winter time."

At the age of 53 Charlie sold his part of the chain-store operations to his brother and bought the Chevrolet automobile franchise for Warren and all of Trumbull County. He took the annual sales from 76 to 532 cars in the first year he owned the agency and sold the franchise three years later at a nice price. He then became part owner and president of Idora Park, and until the time of his death in 1951, built Idora into one of the finest amusement parks in the country. Mr. Deibel once had a large interest in Playland Park at South Bend, Indiana.

The natatorium at Idora Park was built in 1926. It became one of the most lavish swimming pools in the area. The circular concrete pool was surrounded by sand trucked in from Atlantic City, and the water which filled the pool was salt water, thanks to a salt deposit discovered under the park property. Advertisements compared it to swimming at the seashore. The pool was Charles Deibel's idea and he claimed, "You don't have to go to Florida to swim in salt water. We have it right here at Idora, practically in our back yards."

Both Charlie and Agnes Deibel were strict Catholics and were disappointed when their son, Cyril, married a protestant and left the Catholic Church. However, they remained on good terms with the members of Cyril's family. Charlie outlived both his wife and Cyril. Agnes died in 1938 at the age of 70 while Cyril died in 1945. Charles Deibel and his wife are buried in the Calvary Cemetery on Youngstown's Westside.